News & Events
Citygate Outlets Free Parking Privilege
01-01-2023 - 31-12-2023
10:00 - 23:00
CLUB CG members can redeem a Citygate Outlets 1-Hour Free Parking Coupon for 800 Points, which can be used instantly to enjoy an extra hour of free parking!
Spend a designated amount in a single electronic payment at Citygate Outlets to enjoy free same-day parking*: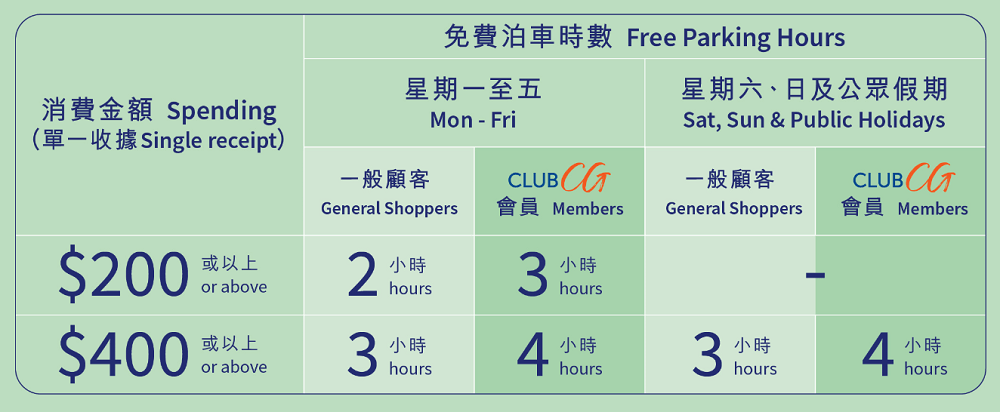 *Same offers apply to P2 and P3 Car Parks. Free parking privileges are not applicable to P1 Car Park.
Terms and Conditions applied.
Redemption Details
Location: CLUB CG Member Counter on L2 (Near Bally – Shop 213) and Customer Care Centre on L2 (Near Cova – Shop 260)
Time: 10am - 10pm
Parking offers apply to both P2 and P3 Car Parks. More spaces are available in the P3 Car Park, so you can save more time for shopping!
Parking Fees & Locations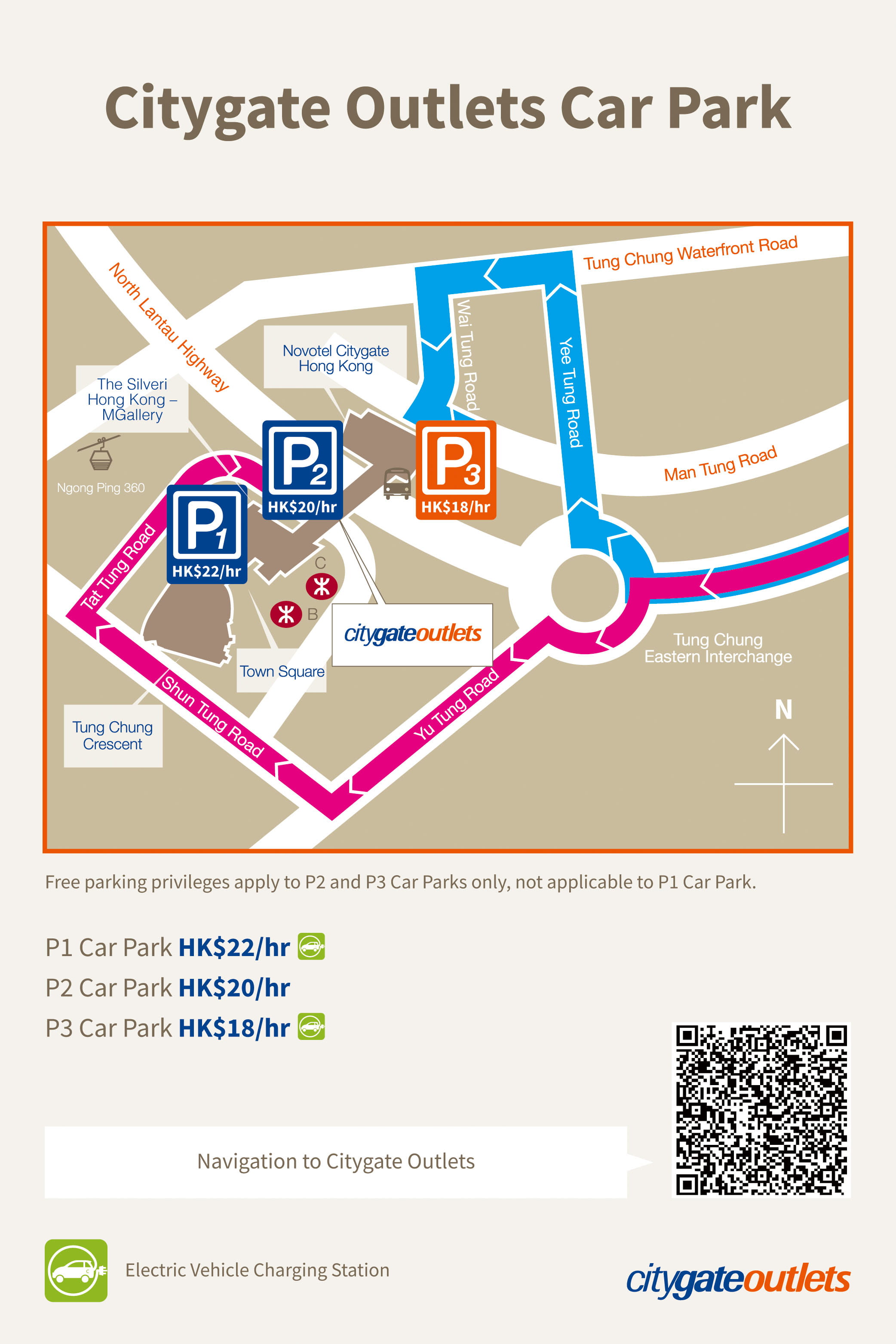 Conditions of Parking and Use of Carpark apply.
Electric Vehicle Charging Stations

A total of 16 Electric Vehicle Charging Stations are available at the P1 Car Park and the P3 Car Park.

P1 Car Park
HK EV Charging Stations (6 chargers)
Charge Service Fee: HK$20/Hour
Post-Charge Fee: HK$50/Hour

Tesla EV Charging Stations (4 chargers)
Charges are based on Tesla's prevailing rate.
P3 Car Park
CLP EV Charging Stations (2 chargers)
Free of Charge

Tesla EV Charging Stations (4 chargers)
Charges are based on Tesla's prevailing rate.
Contactless Parking

CLUB CG members can enjoy our Contactless Parking now.

How to Register

Step 1:
Activate Contactless Parking on the TAIKOO+ mobile app by registering your car plate and Octopus card number under the "Contactless Parking" tab of the "Parking" section. Add your credit card details to enable auto payment for your parking fee.



Step 2:
Activate the service with the registered Octopus Card by entering and exiting on the first-time entry.



Step 3:
Enjoy our contactless parking service with your registered car from your next visit onwards after completing your first validation.

Terms and conditions apply. For details, please refer to the TAIKOO+ mobile app.
Car Park Availability
Quickly find out the nearest available parking options to save your time!